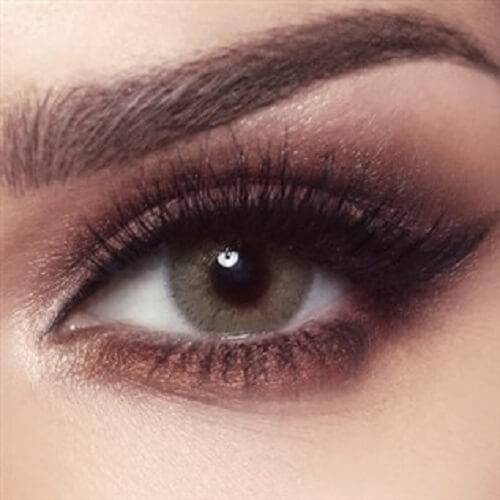 5% OFF
Bella Elite Silky Gold is an exquisite green contact lens with smooth gold highlights giving an impressive and youthful look to anyone who wears this stunning lens. This exclusive colored contact lens has a special bronze tone and is worn by trendsetters and fashionistas all over the world including the USA, UAE, Saudi Arabia and the rest of the GCC.
Where can souKare deliver Bella Elite Silky Gold lenses?
souKare offers international shipping on Bella Elite Silky Gold and all other Bella lenses, including Bella Elite. Order these colored contact lenses online and it will take us just 90 minutes to deliver them to your doorstep! For all other Emirates in the UAE including Sharjah and Abu Dhabi, delivery takes only 1 day. For the KSA including Riyadh and Jeddah, delivery of this unique eye lens could take just 2 days. For other big cities such as London, Birmingham, New York, Leeds, Manchester, Miami, San Francisco, Boston, Las Vegas, Chicago, Los Angeles and many more, shipping takes as little as 2 days.
Why wear Bella Silky Gold?
Bella Silky Gold is a superior finished green contact lens with gold and honey highlights that are sure to impress! Bella Silky Gold is exclusive to the Bella Elite collection and a truly special colored lens crafted by Bella. The smooth green and gold tones in this eye lens create a distinctive bronze color will add that sparkle to your eyes. If you are looking to uplift your style with green eyes then look no further!
Wearing these will give you that wow-factor for a night on the town. Not only do these colored contact lenses look gorgeous, but are also extremely comfortable and enjoyable to wear.
For customers in Dubai, souKare can deliver all Bella Elite lenses to your doorstep just 90 minutes. For all other Emirates in the UAE including Sharjah and Abu Dhabi, souKare can deliver these in just 24 hours. For cities in Saudi Arabia including Riyadh, Jeddah, and Dammam, order these contacts online and it will take us as little as 48 hours to deliver them to you. For other big cities in the rest of the world such as Miami, New York, London, Houston, Manchester, Birmingham, Toronto, Leeds, San Francisco, Munich, Los Angeles, Las Vegas, Berlin, Montreal and many more, shipping takes as little as 2 days.
Is Bella Silky Gold suitable for dark eyes?
Most definitely! The rich and deep colors in the Bella Silky Gold lens covers the iris completely, transforming even the darkest eyes. The delicate limbal ring will create a natural effect while gently accentuating your eyes.
Which other colors from the Bella Elite collection should I consider?
Bella Silky Gold is a warm green contact lens and one-of-a-kind color to its gold highlights and bronze effect. For a bolder green tone, we recommend Bella Elite Silky Green that has a vivid olive-green shade that is adored by many!
Use the guide below to help you decide which other colors from the Bella Elite collection would be suitable for you:
Gray contact lenses: With 5 gray lenses in the Bella Elite collection, you won't need to look any further for gray contacts! Bella Elite Gray Beige is one of the top selling shades and loved for its gray and warm brown tones. For a light purplish-gray eye lens be sure to check out Bella Elite Lavender Gray. The unique color of this lens will dazzle anyone who sees you wearing it. Bella Elite Amber Gray is one of the three newly launched colored lenses from Bella and blends dark gray with vibrant tones amber to create an unforgettable look. Bella Elite Mint Gray, also a new colored lens combines shades of gray, minty blue, green and yellow for a spectacular quartz gray color contact lens that has created hype all over social media! Bella saved the best for last with their third newest color Bella Elite Crystal N. The pearl gray and hazel tones in this gray colored lens is sure to brighten your appearance and create a truly impressive look.
Brown contact lenses: Bella Elite Sandy Gray is a popular dark brown contact lens with soft gray tones, giving an elegant and trendy look to anyone who wears this colored lens. If you are looking for a lighter shade of brown similar to a hazel tone, we recommend Bella Elite Sandy Brown, which is also top selling and gives a subtle and sophisticated look.
Blue contact lenses: True to its name, Bella Elite Midnight Blue is a royal blue contact lens with a hint of yellow and gold that will give you the most enchanting and sparkly deep blue eyes.
How are Bella Silky Gold lenses sold?
Bella Silky Gold is sold in a pack of two lenses, one for each eye, and customers in the UAE get a free 100ml multi-purpose lens solution with each purchase. Currently, due to customs regulations, shipping lens solution/medical liquids to customers outside the UAE is not allowed.
It is also available with powers/grades for customer requirements. Please make sure to refer to your most recent medical prescription before selecting the power. If you are looking to buy colored contacts only for the aesthetic purpose, be sure to select Plano as the power option.
Beware of discount contact lenses online from unauthorized re-sellers as those contacts could be fake and cause irritation to your eyes.
How long can I wear Bella Silky Gold lenses for?
You can wear these and any other lens from the Bella Elite collection daily for up to 3 months. Bella contact lenses are manufactured in Korea with high-quality standards, not like other cheap contact lenses online which can be unsafe to use and can cause serious discomfort.
Important information for contact lens users: do not use contact lenses if you have any ocular disease or experience any discomfort, excessive tearing, blurred vision or redness, etc. If you have any of these symptoms please visit your ophthalmologist immediately.
Can I sleep with my Bella Silky Gold contact lenses?
No, we strongly recommend that you do not sleep with Bella Elite Silky Gold lenses or any other Bella Elite lenses. These contacts should be removed and stored in the lens case before going to sleep.
Your eye lenses should always be stored in a sterile lens case with fresh contact lens solution each time. We recommend a contact lens solution suitable for soft contact lenses. The solution should be multi-purpose, good quality and suitable for cleaning and storing Bella contact lenses. You can use the solution you get free with your pair of Bella lenses or you can buy an additional solution from the Solutions and Drops section of our website.
What is the correct way to wear these lenses?
Hygiene is the most essential part of proper eye lens care and safe handling of your new Bella Silky Gold lenses. Ensure your hands are always clean and free of any substances before putting on your lenses
Wash your hands thoroughly using a mild soap. Rinse completely and dry with a lint-free towel before handling your lenses
Avoid the use of soaps containing lotion, cold cream, or any oily cosmetics before handling your lenses. These substances could come into contact with your lenses and make it difficult for you to wear the lenses
Handle your lenses on your fingertips and be careful to avoid contact with fingernails. It is recommended to keep your fingernails short and smooth
How should I care for these lenses?
It is very easy to care for your Bella Silky Gold lenses. Just be sure to follow through with a regular and good routine. To start, you need an effective multi-purpose lens solution. The solution will clean, rinse, condition, disinfect and help store soft contact lenses.
Follow the below steps for cleaning your lenses with the multi-purpose solution:
STEP 1: Place at least 3 drops of a good multi-purpose lens solution on each side of the contact lens surface and gently rub for 20 seconds. Only use fresh solution from the bottle to clean and disinfect your contact lenses
STEP 2: Rinse each side of the lens thoroughly for 5 seconds with the multi-purpose solution
STEP 3: Place the cleaned contact lenses into the lens case and fill with fresh multi-purpose solution. Soak for a minimum of 4 hours. Remember to always use fresh solution – discard solution from the lens case after each use
Your Bella Silky Gold lenses are now ready to wear. If any debris remains on the contact lenses, make sure to continue to rinse them with the multi-purpose solution until they are clean and safe to wear.
souKare delivers colored contact lenses internationally with FREE shipping to most countries over minimum order- size. souKare offers FREE delivery within 90 minutes in Dubai, on all in-stock contact lenses, and health & fitness products for orders above AED 100. Deliveries to the rest of the UAE including Abu Dhabi and Sharjah usually take one day.
This product Bella Elite - Silky Gold, reference SKU CBEL and ID number 609 from belonging to Contact Lenses is available in 2 Lenses - Quarterly at souKare. We ship this product internationally with free express shipping* to most countries including United States, United Kingdom, United Arab Emirates, Australia, Canada, Spain, Turkey, Germany, France and more. We accept payments in multiple currencies including USD, GBP, EUR, AED, KWD, BHD and OMR.
Specifications
Details
Base Curve: 8.6
Hydration: 38%
Diameter: 14.5
Replacement Schedule: 3 months
Usage Schedule: Daily
Reviews