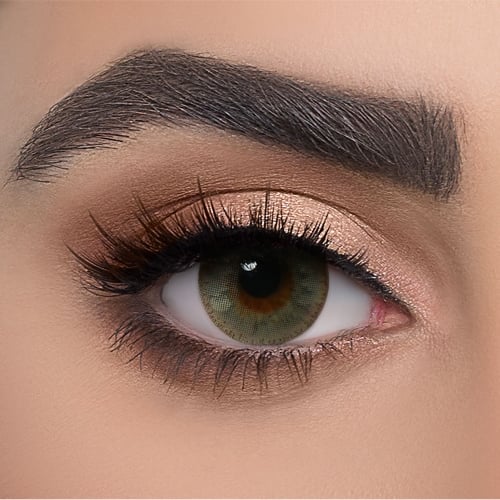 6% OFF
Dahab Caramel is an exclusive light green colored contacts with subtle hints of the brown and soft limbal ring. A bestseller across the Europe and GCC including UAE and KSA, Caramel colored lens will cover light or dark eyes for a really natural look every day.
Why wear Dahab Caramel?
If you are looking for the natural light green eyes then Dahab Caramel is the shade for you. This cosmetic lens comes with a delicate limbal ring and shifts into pale greenish brown near the center to give the most outstanding color that is ordered online from all over the Middle East and now across the world. Wear them during the day and into the evening hours to complete your look. These fashionable lenses have high opacity so you can be assured they will cover dark eyes well.
Dahab Caramel soft contact lenses can be worn daily for up to 6 entire months. Dahab Lenses are manufactured in Korea with excellent quality standards for the most comfortable wearing experience. Customers in Abu Dhabi, Jeddah, Dubai, Riyadh, Al Ain, Sharjah, Mecca, and Dammam love the natural and yet trendy look of these lenses.
Which other colors from the Dahab Gold collection should I consider?
With 23 dazzling colors to choose from, Gold Collection from Dahab Lenses has something for all fans of colored contacts.
Original eight shades to try out other than Caramel: Lumirere Green, Lumirere Hazel, Lumirere Gray, Lumirere Blue, Solitaire, Sabrin Soul, Aqua
Nine luxurious shades for a more natural look: Sky, Ice, Marron, Creamy, Cat Eye, Hind, Gray Green, Tiffany Blue, Lumirere Brown
Six glamorous color lenses for an elegant unique look: Sabrin Gray, Swarovski, Sun Kiss, Topaz, Medusa, Diamond
This product Dahab - Caramel, reference SKU CDHB and ID number 1100 from belonging to Contact Lenses is available in 2 Lenses - Half Yearly at souKare. We ship this product internationally with free express shipping* to most countries including United States, United Kingdom, United Arab Emirates, Australia, Canada, Spain, Turkey, Germany, France and more. We accept payments in multiple currencies including USD, GBP, EUR, AED, KWD, BHD and OMR.
Specifications
Details
Lens Material: Polymacon
Base Curve: 8.8

Diameter: 14.8
Hydration: 38%
Center Thickness: 0.05 - 027
Replacement Schedule: 6 months
Usage Schedule: Daily
Contact Lens Solution: Not included

Reviews